Stuck on this page? Click on Home and start from there.

Welcome to Elaine Adler's
Ketubot and More
Whether you spell it ketuba, ketubah, ketubbah, katubah, or ketubot, you have come to the right place if you want to be part of the process in creating a custom, personalized, handmade Jewish wedding contract that reflects who you are as a couple. Your ketubah is probably one of the first works of art that you commission together. It should reflect the words, thoughts, symbols, and artistic feel that are meaningful and personal to the two of you and the home you want to create together.
What is a ketubah?
The ketubah has been part of Jewish marriage ceremonies for 2500 years. Many couples are surprised to discover that the traditional Aramaic ketuba text is a financial contract—one in which the groom pledges to care for his wife and promises a sum of money in the event of their divorce or his death. In its day, it was a revolutionary prenuptial agreement that protected women in a time when they did not own property. For more about the history of ketubot and my process in creating them, see my article, "Of Ketubot and Connections."
The wording of the traditional ketuba text has changed little to this day. Many contemporary couples seek language that speaks more to the feelings they share for one another, and for the hopes, dreams, and home they wish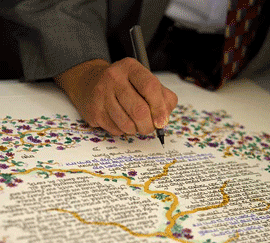 to build together. I am open to creating ketubot with any combination of ketubah texts, from the traditional ketubah text to more contemporary, egalitarian ketubah texts, to interfaith ketubah texts, commitment ceremony texts, and anniversary ketuba texts.
It has been interesting, in the last few years, to have clients, neither of whom is from the Jewish tradition. As our world grows smaller and more interactive, and people attend ceremonies from other cultures, many are borrowing meaningful rituals and customs to add to their own life-cycle events. It has been quite special for me to create ketubot for couples who have chosen to adopt this beautiful document for their own.
How do I work with clients who commission a custom ketubah?
To cre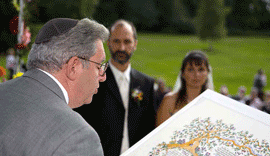 ate the one-of-a-kind, hand-calligraphed and hand-painted, personalized ketubot and other calligraphic art that clients commission, I try to get to know couples well enough to establish a personal connection. We have fun brainstorming, whether in person or over the phone, as we design a work of art that combines a selected text with unique symbols and illustration that are meaningful to each couple. The process of working closely with people to create something memorable and special to them is just as important to me as is the finished work of art. As you browse through the designs presented here, I hope you will sense the freshness and spirit that I bring to my art, whether the design is traditional or contemporary.
I am privileged to work with happy people at happy times in their lives and to be able to do something that I love. The deep connections I make with clients are rewarding and fulfilling, whether I get to meet them in person or over the phone. Most of my clients come to me by referral, and it's true that nice people refer nice people.
If you are considering a unique ketuba, whether for the beginning of your relationship together or to honor a special anniversary, I look forward to hearing from you. Combined with my training as a speech and language pathologist to listen well, technology provides many avenues for sharing information effectively. If you live in the Boston area, meeting in person is a plus.
Read about the history of ketubot.
Learn about ketuba texts.
Read FAQs about commissioning a custom ketubah.
Click on icons at left to view examples of my ketubot.
View some of my custom wedding invitations.
More about Elaine.
To explore possibilities for creating a unique ketuba
or other calligraphic artwork
for your own special occasion or to give as a gift,
personal dialog allows for productive sharing.


Contact Elaine Adler at
781-861-9679
(Boston area)
click here to send email
IF YOU ARE SEEKING A KETUBA • MARRIAGE CONTRACT • JEWISH WEDDING CONTRACT • TRADITIONAL KETUBAH • EGALITARIAN KETUBAH • INTERFAITH KETUBAH • ANNIVERSARY KETUBA • COMMITMENT CEREMONY KETUBA • KETUBOT TEXTS IN ARAMAIC AND ENGLISH • UNIQUE CUSTOM BIRTH ANNOUNCEMENTS • CUSTOM BABY NAMING CERTIFICATES FOR YOUR SIMCHAT BAT OR BRIT/BRIS • ILLUSTRATED AND ARTISTIC CUSTOM FAMILY TREES • JEWISH BIRTH ANNOUNCEMENT • HEBREW CALLIGRAPHY • CUSTOM WEDDING INVITATIONS • JEWISH WEDDING INVITATIONS • BAR MITZVAH INVITATIONS • BAT MITZVAH INVITATIONS • BAR MITZVAH GIFTS • BAT MITZVAH GIFTS • OR SYNAGOGUE GIFTS OR PLAQUES, ELAINE ADLER WILL BE HAPPY TO WORK WITH YOU TO CREATE SOMETHING SPIRITED AND BEAUTIFUL.