Stuck on this page? Click on Home and start from there.
Elaine Adler:
FAQs about Commissioning a Ketubah
What is a ketubah?
The ketubah is a marriage contract used at Jewish ceremonies over the centuries for 2500 years. For more about the history of ketubot and my process in creating them, see my article, "Of Ketubot and Connections."
How do you choose the text for your ketubah?
If an Orthodox rabbi is officiating at your ceremony, you will most likely use the traditional Aramaic text, which has hardly changed since it was first introduced in the fourth century B.C.E. Many Conservative rabbis also require the traditional text, usually allowing a more contemporary English text to accompany the traditional should you want one. Many Reform couples choose to use a modern egalitarian text in some combination of English and Hebrew. There are also texts for interfaith and gender neutral ceremonies. There are many published texts available from which to choose, or you can write your own.You'll find more specific information and examples under ketuba texts in the Custom Ketuba section of my web site.
What is the difference between a preprinted ketuba and a custom ketuba?
A preprinted ketuba is one that has been printed in some form, with blanks left in appropriate places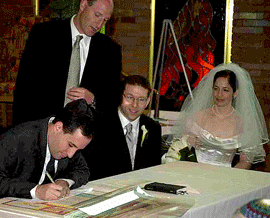 to fill in the date, place, and names. Many rabbis have inexpensive preprinted ketubot published by various synagogue organizations. You can also purchase more artistic preprited ketubot, available from the artists who created them or from Judaica stores and web sites. Because the artist usually prints anywhere from one to five hundred copies (or more) of each design, the price of a preprinted ketuba can be reduced considerably when compared with the price of a one-of-a-kind design. When you purchase a preprinted ketuba, you are limited to the combination of text and design available.
A custom ketuba is one created just for you, with the text and design of your choice. The options are endless. Your input in the design process is essential to ensure that the result resonates with you. As a one-of-a-kind work of art, it can take anywhere from 30 to 60 hours to develop the design, write out the text, and paint the artwork around it. At the moment, I do not have any preprinted ketubot available, though many have urged me to create some. Maybe one day when I find some time. For my unique, custom ketubot, my fee is determined by an hourly rate and is affected by a combination of the amount of text and complexity of the design.
How do we work together to create your ketubah?
We either meet in person or have dialogs over the phone. Once you two have discussed your preferences, the three of us will brainstorm and explore options so I learn what is important to both of you. When you have selected your text and conveyed your preferences for the overall design, as well as any specific elements or symbols you may want included, I create a rough pencil sketch for you to see and respond to. Once the sketch is approved, I create the final design. I keep the sketch rough for two reasons. Since the clock is ticking, it doesn't make sense to put too many hours into perfecting a design that has to be done again with the right paper and materials. Second, I prefer keeping the creative process fresh until the last stroke is on the page.
How do you get your ketubah?
If you aren't in the Boston area to pick it up, I mail it to you. My preference is to mail it flat so it isn't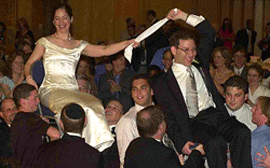 subject to being rolled and handled. Either way, I sandwich the artwork between two pieces of foam core to protect it. I use non-permanent tape to adhere it to the core, and tape a sheet of clear acetate over it so the ketuba is protected if you display it on an easel during the reception. A box large enough to accommodate the flat ketuba (for a large ketuba, the foam core can measure 26" x 34" for larger ketubot), and the fee for mailing priority or overnight, can be costly; however, it is worth it to ensure the protection of the ketuba. I've trained the employees at my local UPS store to pack the artwork safely, and am happy to say every package has arrived safely over the years.
When is the ketuba signed?
The ketuba is signed immediately prior to the wedding ceremony. The signing usually takes place in the company of immediate family in a room that is separate from where the guests are congregating. Sometimes rabbis will include a special ketuba signing ceremony in front of all the guests if that is your preference. You should discuss the ketuba signing with your rabbi. Having done light-fade tests on almost every pen on the market, I provide you with the pen that should be used for signing.
Who signs your ketuba?
For most traditional ketubot, only two witnesses sign. In the Orthodox tradition, the witnesses must be male, unrelated, and often are required to be observant. Reform rabbis and some Conservative rabbis allow women witnesses as well as men. You should discuss requirements for witnesses with your rabbi. You'll find more information about ketuba witnesses at ketuba texts.
KETUBA • KETUBAH • KETUBOT • KETUBBAH • HEBREW CALLIGRAPHY • JUDAICA • MARRIAGE CONTRACT • JEWISH WEDDING CONTRACT • TRADITIONAL KETUBAH • EGALITARIAN KETUBAH • INTERFAITH KETUBAH • ANNIVERSARY KETUBA • COMMITMENT CEREMONY KETUBA • KETUBAH TEXTS • BIRTH ANNOUNCEMENTS • ILLUSTRATED FAMILY TREES • JEWISH BABY NAMING CERTIFICATE • JEWISH BIRTH ANNOUNCEMENT • HEBREW BIRTH ANNOUNCEMENT • WEDDING INVITATIONS • JEWISH WEDDING INVITATIONS • BAR MITZVAH INVITATIONS • BAT MITZVAH INVITATIONS • BAR MITZVAH GIFTS • BAT MITZVAH GIFTS