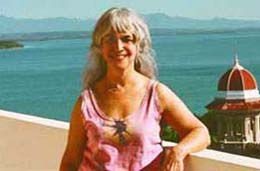 Reflections on Cuba :
Springboard for Change
by Elaine Adler
January 2003
Photos by Elaine Adler
I recently traveled to Cuba, invited by my friend David Elpern, a dermatologist in Williamstown, Massachusetts, who organized an exchange between dermatologists from the United States and Cuba. Not required to attend all the scientific sessions, I decided to use the opportunity to connect with Jewish communities in Havana and Cienfuegos. A friend from Florida, also a dermatologist, had traveled to Cuba the previous year, and he sent me email addresses of special Cuban contacts as well as extensive literature about the history of the Jewish community in Cuba. From the highly informative web site, The Cuba-American Jewish Mission (CAJM), maintained by a California woman who helps travelers desiring a Jewish component in their travel plans and also organizes missions to connect with Jewish communities in Cuba, I gained ideas and an incredible list of personal items needed by Cubans. As word spread about my trip, people from a number of organizations asked me to carry items to share with friends made during their own visits to Cuba.
Realizing that I had the possibility of personal encounters that would elevate my experience from the usual touristy distance, I embarked on projects that would allow as much sharing as possible. I wanted to have something to give to children I encountered along the way, whether on the streets or in planned meetings. When I looked on the web for little pins depicting U.S. and Cuban flags, I discovered sites where one can purchase crossed flags of almost every pairing of countries—except for the U.S. and Cuba. When one clicks on the U.S.-Cuba link, a blank page pops up. In the long run, I was glad not to be able to take this easy route. I decided to create my own paired flags in Adobe Illustrator and use them on bookmarks for children, with the phrase "reading creates friends—a bookmark from a friend in the United States," in English and Spanish. When David saw the design, he asked me to create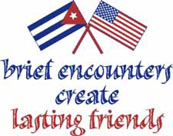 t-shirts to give to all the Cuban dermatologists, using the flags and the phrase "brief encounters make lasting friends" in Spanish on the front and in English on the back. Needless to say, designing and overseeing the printing of 200 t-shirts, and printing, laminating, and cutting up 300 bookmarks, added to my to-do list. Preparing for the trip became a full-time job for two months. Because of email exchanges, I felt as if I'd be visiting already established friends.
Packing was going to be interesting. I had purchased several bottles of vitamins, aspirin and children's decongestants requested by specific people through emails. I gathered all the hotel soaps and shampoos collected over the years, grateful for the opportunity to finally find a use for them. A friend who is a make-up artist brought me samples of lipsticks, nail polish, and other cosmetics to distribute to young women who would be thrilled by them. A parent from the Solomon Schechter Day School in Newton, Massachusetts, brought me 13 "Shabbat Kits" designated for the Jewish families in Cienfuegos. Each kit consisted of delightfully painted wooden candlesticks, candles, decorated kiddush cups, beautifully painted challah covers, and booklets containing the Friday night prayers in Spanish, Hebrew, and Hebrew transliteration—all made by SSDS children and their parents as a tzedakah (good will) project. Someone brought me three cameras, complete with heavy packages of batteries and film, to distribute to the Cienfuegos community.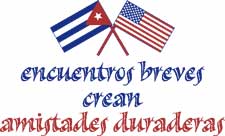 I gathered some Judaica objects and art to share with certain people. I had purchased colored paper, huge sets of markers, Judaica stickers, and other art materials to give to the children at the Havana synagogue, whom I planned to visit during their Sunday School session. And, of course, there were all those t-shirts and bookmarks.
The best thing I did was to send most of the t-shirts to David so he could distribute them among a few of the travelers in the group. After tightly rolling the 30 remaining shirts and rewrapping all the fragile Shabbat kit items in bubble wrap, most of the space in the big, old suitcase designated for Cubans was taken. Magically, each time I went to tuck in a bottle or a little package of cosmetics or bookmarks, the needed pockets of air space would reveal themselves. When finally squeezed shut, bursting at the seams, the suitcase weighed 45 pounds. The last protection was to wrap it with heavy canvas straps with plastic openers, just in case customs got curious (I purposely packed nothing metal or suspicious looking in it.) After shlepping this heavy bag around for a number of days, it was freeing to let go of it. Not only did I leave all the contents; I even left the suitcase with a family in Cienfuegos.
Being in Cuba was a life-changing experience. As I arranged photos in an album, I realized that I experienced the country and its people on multiple levels.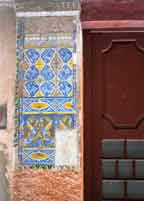 The beautiful architecture, once brightly painted and with intricate iron grillwork gates and window decorations, now crumbling, peeling and in a state of disrepair, filled my visual senses with visions of what was, was is, and what could be. I couldn't help wonder how Cubans see the state of buildings around them, whether they're bothered by the drabness and decay, whether the older ones remember how it used to be, whether the young ones know it could be different, whether people are envious when they see the newly painted, refurbished buildings in tourist areas, whether they'll ever see their surroundings returned to their original beauty. Those whom I asked responded that the state of decay was worth improved education, health care, and other provisions that came with the revolution. Their priorities are straight.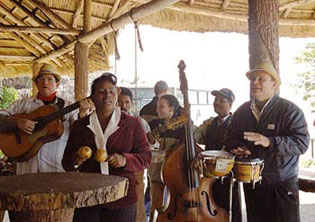 The joyful music abounding from cafes, on street corners, in restaurants, in parks, filled my soul with bubbling lightness and happiness, making me want to dance and move.
The beautiful faces of Cuban children, connecting with each briefly with a look or a few words as I shared my bookmarks with them, filled my heart. These children, not knowing to "want it all," touched me deeply. The day I returned home, shopping at my local produce market where I normally revel in the long row of fresh colors, textures, and variety, I could think only that the children of Cuba don't even know that most of these fruits and vegetables exist. Feeling overwhelmed, I heard the sound of a child crying as if his heart would break -- you know that pathetic, heart rending sound? He, about 1-1/2 and his 3 year old brother both sat in the cart with red apples. The older child was eating his apple. The younger, inconsolable, was holding his.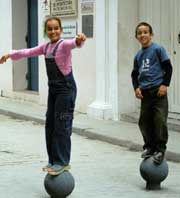 When I tried to talk to him, his mother said he wanted strawberries, and she was reluctant to buy them because they're expensive and inferior out of season. She finally broke down and bought some to quiet him down. I couldn't help think that, the whole time I was in Cuba, I never once heard a child cry. When children don't have such riches and luxuries, they don't know to want more. I am grateful that my grandsons are being raised to accept that one can't have everything one wants, just as I modeled for my own two sons.
Very special were my encounters with the children at the Havana synagogue, sitting in a circle on the floor with the youngest group, listening to them chant prayers in Hebrew, singing Hebrew songs and dancing Israeli dances with middle-school girls, seeing their delight in receiving the stickers, art supplies, and bookmarks, watching them plant small rooted plantings in pots in celebration of Tu B'Shevat, the Jewish New Year for Trees, seeing them clinging by a thread to their ancestry and Jewish culture against all odds, allowing a peek at how the Jewish people have survived against all odds throughout the centuries, strengthening my connection to our strong lineage.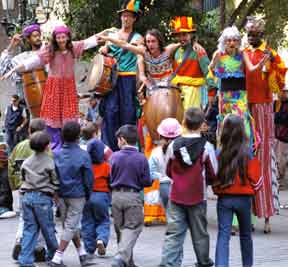 Being greeted with eye contact, a smile, and a friendly "hola" or "buenos dias" by every person I passed, watching others greet each other in the same way whether friend or stranger, gave me a peek at what life can be when people are open and trust one another, reminding me that such traits are sadly being extinguished in our country.
Watching mothers and children walk along with arms and hands entwined, regardless of gender or age, demonstrating the closeness, bonds, and love between them, made me think about how so many in our country seek to maintain their boundaries and not have their space invaded.
Sharing personal stories with Cuban doctors at meals, and learning how moved they were by our acknowledging and reaching out to them, made me just as grateful as they for the opportunity.
Spending a day with my new sister Grisell and her 15 year old daughter Gisell (we had bonded through emails long before my visit), buying a blouse for a most grateful Gisell in a dollar store, having them be my guests at lunch, visiting Grisell's work place at the Department of Public Health and admiring how Communism equalizes all people instead of creating a negative hierarchy, riding like a Cuban in an unlicensed taxi, and being a guest in her home for dinner, offered me the rare privilege of experiencing a day in the life of a Cuban family. Seeing the genuinely warm interactions between the three generations who live together in close quarters, reminiscent of how I had grown up until the age of 15, and meeting other family members who live nearby and dropped in, made me feel like one of the family.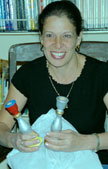 Visiting members of the Cienfuegos Jewish community who gathered in the home of Rebecca and Ramon, where all twenty-seven members of the community congregate every Shabbat

and Jewish holiday, observing their Jewish home complete with seder plates and other Judaica gracing walls and shelves, seeing their delighted faces when they opened the Shabbat kits, Judaica items, cameras, and medications, warmed my heart and, for me, epitomized the thought that it is better to give than to receive.
Bonding with the travelers in our group, blending now with one and then another as we walked city streets, explored, traveled on buses and shared meals, helped us pull together, becoming a family-in-the-moment that cared about and helped each other. As usual, my friend David's magnet attracts terrific people.
I will never forget celebrating Shabbat on Friday night in the Western part of Cuba at the Hotel Soroa near Las Terrazes, a beautiful Enesco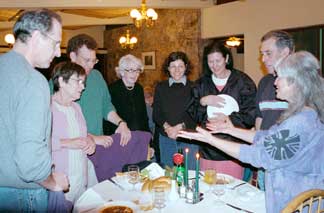 Biosphere, twelve of us chanting the blessings over candles, wine, and bread, standing in the middle of the dining room, oblivious to other diners and the Latin American music from the band. Such a gathering has probably never taken place in this remote area in Western Cuba, and may never again, and we honored the moment by chanting the shehechayanu prayer thanking God for bringing us to this place. This is what our people are all about. No matter where we come from, where we are, what we do, how we celebrate, we can gather together to welcome the Sabbath in unity.
And then there was "my" waterfall. A few minute walk from the Soroa, a beautiful stream entered woods to a concert of singing basso bullfrogs, cascading down to a small waterfall half way down and a larger one, Cuba's tallest, at the bottom. One hundred eight-two man-made steps allowed the hike down (and up!) the steep path. The afternoon we arrived at the Soroa, just before Shabbat, I sat alone on a rock, grateful for the peace and solitude after a week of bustling activity. Determined to stay for as long as the waning light allowed, I timed my return out of the woods to just make out the path in the growing darkness. Stepping out of the woods, I looked up to see an apparition, still as a statue and dark as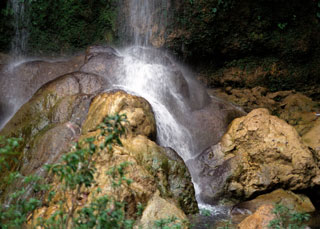 the night. Knowing that I had trekked into the woods, the tall guard silently and respectfully awaited my return. For that moment, we were spiritual soulmates who understood each other despite our lack of facility in each other's language. The next two mornings, I arose early to savor time alone to sit before the rushing, bubbling, foaming spray splashing onto rocks. I meditated, processed, wrote, and chanted at the top of my lungs. Then, as soon as voices from above drained away some of the energy, I made my way up the path, grateful for having had this time and place.
It was a brilliant idea to schedule a quiet, contemplative time in Nature at the end of the trip. Throughout the week, we had all been on the go, walking the streets of Havana and Cienfuegos to view the sites, meeting new people, sharing, straining to communicate in an unfamiliar language, experiencing, running, packing and unpacking as we traveled to different places. Had we gone straight home from all that, I never would have found the space to process all I had experienced. What a gift to have sweet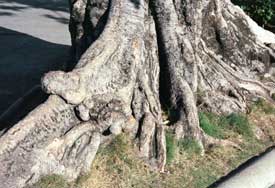 quiet solitude, surrounded by bubbling streams and beautiful trees with ancient gnarled roots. I became anti-social these last two days as my thoughts struggled to surface.
On our last afternoon, I left the group at a populated area in a park to go deep into the woods, finally settling into a crook in a tree with seven trunks at the side of a stream with a series of bubbling waterfalls, writing my thoughts. It wasn't until I heard the sound of busses starting up in the distance that I realized how much time had passed and that I should probably rejoin the group. Making my way up the path, I walked by many groups of people, none familiar. I was strangely calm while wondering if the bus had left without me. Then, as I walked the last narrow path beside the stream, approaching the bridge to take me across, I saw one of the tour leaders waving to me from the other side, and I knew it was time to return to reality, changed forever.

MUSINGS WRITTEN WHILE IN CUBA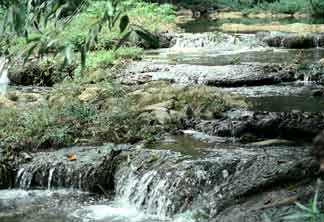 We are the Water and the Rocks
by Elaine Adler
Sitting in a tree at a cascading stream, Las Terrazes, Cuba
January 25, 2003
Hear it?
Torrents of water, splashing over rocks?
Mini-waterfalls scattering white foam and soothing sound.
Clear glass emerald pool falling to moving currents,
spilling, rushing, bubbling.
We are the clear, calm water, sitting serenely.
We are the rocks, getting in our own way and the way of others.
We are the rushing, bubbling water, scattering in all directions.
We are the falling water, dropping into the unknown.
We are the layers, waiting and ready to accept what comes our way.
We are the foaming water, moving on to explore new paths,
waiting to be serene again.
Seeking!
by Elaine Adler
Sitting on a rock at the Saroa waterfall
January 24, 2003
Seeking!
What?
Looking!
Where?
Feeling!
How?
Contemplating!
Why?
Bonding!
Who?

Revelation under the waterfall
by Elaine Adler
Users
Losers
Movers
Choosers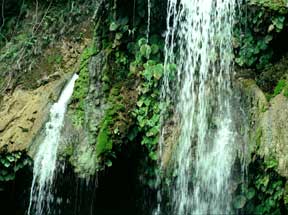 Current
by Elaine Adler
We are the current—
A flowing stream
Carving paths
Sometimes rocky hard
Sometimes silty soft.
Forever moving
Persistent and calm
Finding our way
Over, under, around, through
Gathering moments.
Musings
by Elaine Adler
Under the waterfall
Clarity comes:
Stay clear of falling stones.
Traveling a foreign land
People and places
Gathering memories
Crumbling buildings, scant food
Joyful music, dancing.
Go figure!
Pleasant people all around
Smiles, greetings, openness
Kindness costs nothing.
What do they think
When we dole out dollars?
An embarrassment of riches.
Always wanting, yearning for more.
Then see those without even toilet paper or soap.
Get real!

On a real spiritual path, it is the person, not the scenery, that changes.
-- Sara Levinsky Rigler