Links not working? Click on Home and start from there.
Elaine Adler:
Frequently Asked Questions (FAQs)
about Birth Announcements —
Brainstorming, Designing, Printing, Costs
Hopefully, the following questions and answers will address most of your thoughts regarding the commissioning of a custom birth announcement or invitation. Note that Design and Printing are discussed separately.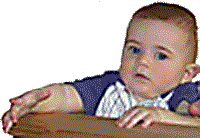 Please feel free to call me if other questions come to mind. Because we will need to bounce ideas around to come up with just the right design for you, it is best if you call for a personal dialog.
Design Considerations:
When is the right time to start planning the announcement?
Most couples contact me a month or two prior to their baby's birth. Though some couples do initiate contact after their baby is born, starting early provides time to engage in the design process and have a completed announcement within a few weeks after the birth. I do not start actual work on the design until after I receive a call confirming the birth, when I also learn vital information such as the baby's name, date of birth, and weight. Having the design process set at this point is less stressful for new parents as they are adjusting to the demands of new schedules and routines.
How do we develop the design for the announcement?
During a personal discussion, we first explore possible directions. Should parents want to focus on the meaning of the baby's Hebrew name, or a holiday occuring near the time of birth, or the season in which the baby will be born, or on a particular passage, I have created enough designs to provide ideas and examples of various themes. Sometimes we create a midrash based on the child's Hebrew name. Some couples want to link their new baby to past generations, including information about who the baby is to be named for.
How are charges for calligraphy and design determined?


The final calligraphy/design fee, based on an hourly rate, depends on the amount of text and complexity of layout and design. Though an exact fee cannot be determined until the design is completed, I am happy to provide an estimate as we discuss your wish list. Note that printing charges are separate from calligraphy/design fees. If you request it, I am happy to share current pricing guidelines in an email.
What is the payment schedule?
I request an initial payment as we begin our relationship to ensure a place in my queue and to cover the cost of the initial design work. A second payment is due when the design is approved before going to the printer. The final payment is due upon receipt of the printed announcements.
Printing Considerations:
Who takes care of the printing?
Over the years, I have learned that the only way to ensure the quality of printing is to use the printers I have trained to treat my artwork with the same care I put into the design. I only use printers who have fine quality papers, who maintain the fine lines in my artwork, and who position the artwork on the page as requested. Since my name usually appears embedded somewhere in the design, I want to know that the final product is one I want my name on. Therefore, I require that I handle the printing to ensure its qualtiy.
When is copy sent to the printer?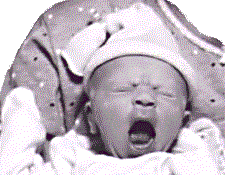 I do not submit copy to the printer until my clients have approved the design, which means they have okayed the wording, spelling, and artwork. I send designs to clients either through email, fax, or snailmail.
What is presented to the printer?
The printer requires copy in black ink. Technology now allows a plate to be created directly from a disk, which produces the finest, cleanest lines. Thus, after I do the calligraphy and drawing by hand, I scan it into the computer, where I am able to fine tune the layout and artwork to ensure the best possible camera-ready preparation. I provide the printer with a disk or emailed files from which they make printing plates.
Some clients occasionally ask if they can have the original artwork created for the announcement. Due to the process described, there really isn't a paper original to share with you. On occasion, families have asked me to recreate the design, or some form of it, by hand, which is a separate charge.
Is the printing a flat surface (offset) or shiny raised surface (thermography)?
I use printers who can print both flat offset or raised thermography, depending on preference. Most of my clients use thermography because they like the effect.
What colors can be used for printing?
Most announcements and invitations are printed in one color in order to keep costs down. Adding a second color can almost double the cost of printing, as it is like starting over for the print shop. The thermography printers tend to have a wide selection of standard colors from which to choose. Should a specific shade be desired, it can be matched for an extra fee.
What papers can be used?
The thermography printers I use have high quality, thick papers. The company I use the most is a moderately priced printer with a nice thick vellum stock that comes in white or ecru. Because the hand done lettering and artwork are what get noticed, the vast majority of my clients agree that the paper needs to be nice, but doesn't have to be the most expensive. This being said, an occasional client prefers a finer, toothier, pricier stock, and I also work with a higher end company that is able to provide this look and feel. The color of ink and paper affect one another, so some inks look better on white, others on ecru. On occasion, we have used other paper colors for special effects; for example, gold metallic ink on dark navy paper. Because art is the focus, I do not advocate the use of multiple paper layers, ribbons, and other decorations, all elements used by social printers to capture attention because their typography is relatively boring.
What card sizes are possible?
Card sizes are determined by the size of envelopes carried by different printers. The printer that I prefer offers envelopes that are: 5.75" x 8", 5.75" x 5.75", and 7.5" x 7.5". Cards are cut to be .25" less in both dimensions. Thus, corresponding card sizes tend to be: 5.5" x 7.75", 5.5" x 5.5", and 7.25" x 7.25".
Are announcements printed on only one side or double-sided?
For the sake of cost and the environment, most of the announcements and invitations I create are printed on a single-sided card. The printing price almost doubles when there is a cover design and text on the inside, requiring two passes through the printer.
How are printing charges determined?
Because printing charges are set by the printer and may change, I will be happy to share current charges if you are interested in considering having me create your announcement. The printer I use the most has fine paper, does great printing, and tends to be in the lower-middle price range of most printers.
All designs, artwork, articles, and descriptions displayed on this web site are copyright ©1995-2012 by Elaine Adler and Elaine Adler Word Designs. All rights reserved. Please do not copy, print, or reproduce in any form any of the artwork, text, graphic design, or any other part of this web site without the express written permission of Elaine Adler.
Web site design by Elaine Adler.